The Pegram Jam Fiddle Tune Chord Chart Book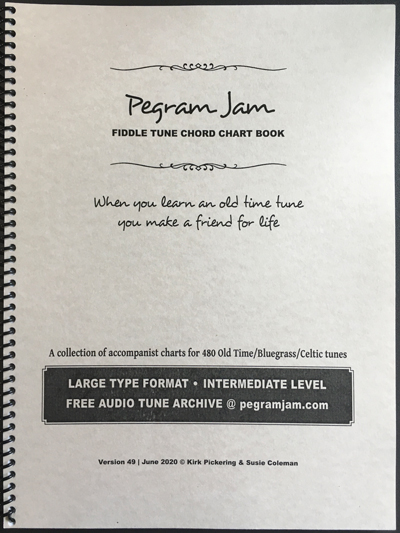 Since the beginning of the Pegram Jam, we've written out chord charts for nearly every tune played at the jam. Eventually, we compiled the charts into a book that was updated frequently. Visitors found it to be a useful resource.
At last count, we had charts for over 480 tunes. Most of the repertoire is Old Time, but there are some Bluegrass and Celtic tunes in our collection as well. We continue to add new tunes as time permits.
The Pegram Jam Chord Chart Book is available for purchase in a coil-bound edition or as a free .PDF download. These charts are provided "as-is". You may find typos or run into a totally different version of a tune. We continue to weed out mistakes with each new edition. Carry a pencil with your book to make notes when necessary.
The Pegram Jam Chart book was last updated March 2023.
Download a complimentary copy of the Chord Chart Book
We've offered the charts as a free download to the public since day one. Feel free to grab a .pdf version of the book so you can use your phone or tablet to display the arrangements. In the spirit of Old Time sharing, no charge! If you have difficulty in downloading, please try another browser.
CLICK HERE TO DOWNLOAD THE LATEST VERSION OF THE PEGRAM JAM CHORD CHART BOOK
Purchase a Chord Chart Book
A .pdf version of our book may not suit you. Fumbling with your phone during a jam is not fun. Printing out your own hard copy can also be a problem; not everyone has a laser printer, an unlimited supply of ink and paper, or the time and willingness to print and bind a book. Well, you're in luck because Susie prints copies for those of you who would rather just buy one.
Each book is coil-bound so it will lay flat when open. 80 pages, black and white. Large type so you can see it at a reasonable distance. Your cost is $20 per book + $4.50 shipping. We ship via USPS Media Mail, and you should receive your book within 5-10 working days. Purchases made in Tennessee are subject to state sales tax. We do not ship books outside the US, sorry.
Click the Buy Now button below to be taken to Susie's PayPal account to purchase a book; her humble publishing company's name is Folkslingers so you may see that name on your receipt. Susie has authored three guitar instruction books and a uke book in addition to our chord chart book, available on her website: Folkslingers.com. You do not have to be a member of Paypal to use this checkout button.
PEGRAM JAM CHORD CHART BOOK: $20 + $4.50 shipping